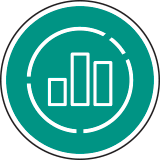 Swift and unprecedented government action has mitigated the worst economic and health impacts of the COVID-19 pandemic in NSW. While this assistance is critical to shielding business and the broader community from this extraordinary event, the longer-term health of our economy requires a steady return to robust competition and a business-led recovery.
Productivity reform is the most powerful tool we have to sustain and drive real improvement. Unlike fiscal support, productivity reform doesn't create debt for future generations, and the benefits are long-lasting.
To build upon the success of changes introduced during COVID-19, this Budget includes an ambitious reform agenda to ensure prosperity for future generations.
Leveraging the NSW Productivity Commission's Green Paper and the Thodey review of Federal Financial Relations, the 2020-21 Budget provides additional investment for a suite of reforms. These reforms are designed to:
Take the first steps in reforming inefficient taxes.
Deliver a more streamlined and timely planning system to accommodate new businesses.
Improve student outcomes and ensure workforce flexibility.
Introduce regulatory changes to support innovation, competition and economic growth.