As the Government invests the proceeds of asset recycling into its record infrastructure program, it is also setting the state up to be able to continue to do this into the future with the NSW Generations Fund (NGF).
One year on – the NSW Generations Fund is up and running. In late 2018, the State deposited $10 billion into the NGF: $7 billion following the sale of a 51 per cent stake in WestConnex $3 billion from balance sheet reserves.
The NGF Board oversees the formation of the NGF's investment strategy and initial deployment into financial markets by the State's investments funds management arm, NSW Treasury Corporation (TCorp).
The NGF's investment strategy (i.e. the mix of assets it is invested in) is aligned to its long-term investment horizon returns of 4.5 per cent above inflation. Guided by the NGF Board, the Fund has invested in a diverse range of assets including domestic and international equities, bonds, property and infrastructure assets.
Investment performance has been well above expectation, resulting in a fund value of $10.8 billion five months in. The NGF is projected to grow to more than $28 billion by June 2029, helping further strengthen the State's balance sheet.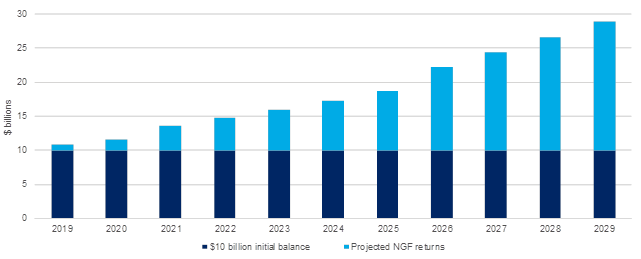 As the NGF grows, it also delivers for today's communities through the My Community Project initiative. Over 1,800 applications have been received, with community members able to vote online for their preferred project from July this year. This innovative approach will allow communities to have a direct say in what projects get delivered in their local area.